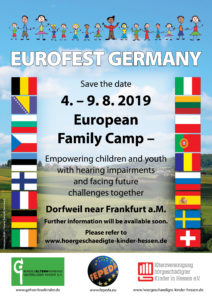 FEPEDA's next European family camp is scheduled for August 2019 in Dorfweil near Frankfurt am Main. The main topic for parents, children and teens from all our FEPEDA member associations will be "Empowering children and youth with hearing impairments and facing future challenges together". Today we like to share some more information about the beautiful location for the family camp. The small village Dorfweil is part of Schmitten and can be found 45 km north-west of Frankfurt am Main.
Please enjoy a look into the brochure of the holiday resort:
"Our Christian holiday complex is located in the Hochtaunus nature park in the panoramic area of Dorfweil, a small village in the Taunus hills, part of Schmitten, a climatic health resort. The beautiful location, in grounds of over 7.5 acres, is set in a wooded area and the favourable climate, together with a friendly atmosphere, offers an ideal setting for relaxation, recreation and reflection." …
"Whether you explore the 2,000 year old cultural landscape around the holiday resort or enjoy a community game, we offer diverse recreational activities which make a child's heart beat faster! Does your child like to try some archery or listen to stories around the crackling camp fire? Or run barefoot across the field and play outside, possibly discovering the rope-climbing garden?"
The holiday resort at Dorfweil offers a great number of activities indoor as well as outdoors. Don't forget to mention that there is also a sauna and a nice swimming hall.
Of course, you will be offered an interesting programme for the whole family. You can look forward an official congress day to learn more about empowering children and teens with hearing impairments and there will be a fun programme for kids and teens, too.
Further information will be available beginning of 2019. Registration documents are planned to be ready by end of January 2019.
28.11.2018 Eurofest project team
Cuts from the image brochure from Dorfweil holiday resort
http://wordpress.p421316.webspaceconfig.de/wp-content/uploads/2017/10/160901_Image_FSD_EN.pdf
Pictures taken from Nicole Schilling